FIRST ONLINE, FIRST FOR DOG LOVERS!
Literally "the world's first" source for global dog news, dog training, canine nutrition and health information freely provided by veterinarians, dog show judges and dog breeders. See AD RATES BELOW
The Dog Fancy Goes Mainstream
Having mastered video production for dog show clubs and launched the first dog-related newspaper, Bill and Barbara Andrews attended the 1998 NAB (Nat. Assoc. Of Broadcasters) Conference in Dallas. They were the security-cleared guests (our Embassy had just been bombed) of Lawrence Lindsey who gave the feature seminar "Presenting Network News."
While there, they shared a drink with Ted Turner (founder of Turner Broadcasting which became CNN) who introduced the Andrews to Rupert Murdoch, President of News Corp. which later became Fox News.
Inspired and encouraged by these media giants, Bill Andrews decided the emerging internet would need a dog-site. In a "meant to be" coincidence, the tech who serviced our company computers knew a guy who was building a "website" for Nike Shoes... Thus TheDogPlace.org became the world's first public website!
Links open in a window for your convenience (back button on mobile devices)
NetPlaces Network Demographics
Purebred dog owners and dog breeders seek quality, esthetic beauty, and optimum health for their pets and themselves. Professional handlers and judges are involved in every aspect of canine care.
Dog show exhibitors are affluent, well educated, and highly mobile, i.e. RVs outnumber autos at dog shows. That is why the U.S. pet industry grew to over $81 billion in 2019.
The NetPlaces Network guarantees results for your product, service, show dog or breeding program - or your money back! Each NetPlaces Network website is top ranked in all major search engines. You may have advertised in other formats with disappointing results. That won't happen here.
TheDogPlace.org is the world's first public website (1998) and first U.S. site to which China allowed access.
TheDog-e-Book is the world's first (2000) dog-related directory. "Everyone Who's Anyone Is There"...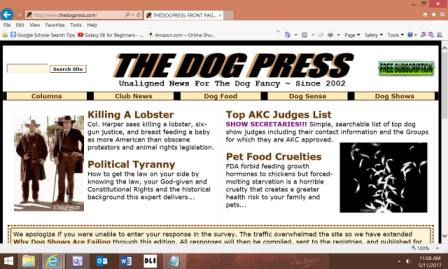 TheDogPress.com launched in 2002, the first online dog news by/for the global dog fancy.
TheJudgesPlace.com followed in 2005, another first in "Judges Education" and interactive communication.
When you put ad size, cost and readership in the same sentence, the advantage is staggering. We welcome your product, service, latest win or litter announcement. Your message will be seen within a week! You are limited only by your imagination, not by technology.
Explore the NetPlaces Network advertising options!
TheDogPlace Rates TheDogPress Rates TheJudgesPlace Rates
For specs other information email Media Mgr. Dennis Flye
or call (800) 215-1178 weekdays 9 A.M. to 5 P.M. EST
NetPlaces Network Writers and Science And Advisory Board
NetPlaces Network Privacy Policy 1751892003214 https://www.netplacesnetwork.com/index.asp